Be Familiar with the Policies!
Monday, August 29, 2022 by William Suit | Uncategorized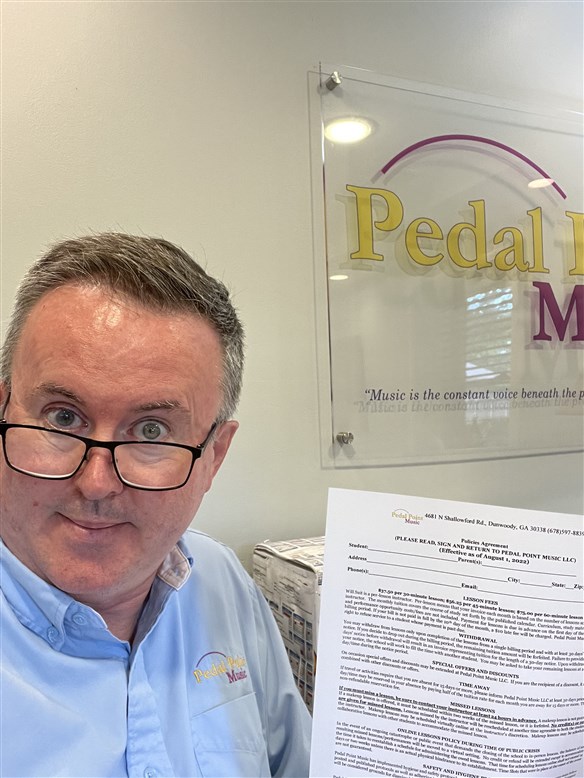 We're off to a great start at Pedal Point Music this year. Enrollment is climbing once again, students are excited about new levels of study as well as new editions from our curriculum source! The picnic was abuzz with parents and students enjoying the afternoon while sharing music in a casual setting. Now we're headed into September and the Fall.
With the new year comes a revision and update to our policies and procedures. The changes aren't terribly drastic, but all of the policies have been in flux during the pandemic to allow everyone a chance to stabilize and move forward. Quite frankly, the flexibility from parents and instructors had a tremendous impact on moving forward as a school. Now we've arrived at a more "stable" time. It is time to return to the enforcement and observance of our policies.
Here are some good reasons why:
1. The policies help create a safe, effective, and balanced environment of learning for both the clients and the instructors.
2. The policies clarify expectations and requirements so that each client is treated fairly.
3. The policies help assure that the school maintains a firm footing and keeps the doors open.
If you haven't read, signed, and returned a copy of the policies, you will be required to do so by September 10, 2022.
Thank you for taking time to do this and for helping make Pedal Point Music a wonderful place to study music!
Will
Getting Off on the Right Foot with Music Lessons!
Thursday, July 21, 2022 by William Suit | Uncategorized
A new year of music study is only a few days away as the summer months begin to wind down. Pedal Point Music is ready for you and all of the instructors are excited to pursue a great year of music goals! New students are enrolling and existing students are preparing to resume.
Here are some pointers to get your new year off to a great start:
Read and sign the school policies. (Questions? Now is the time to ask!)
Review the calendar. It is your course of study and will be followed.
Note your instructor's pricing. Updated pricing is effective August 1st.
Plan to attend the picnic August 14 at Pernoshal Park! Pack a picnic lunch and bring your family. We will have fun!
If you know someone contemplating music lessons, please tell them about Pedal Point Music! For each family that is successfully enrolled by referral, the referring client receives a credit of $37.50 on his/her account! Just send them this link, https://www.pedalpointmusic.com/Enroll, so that they can complete registration. Remind them to use your name as the referrer. Thank you in advance!
There are now four instructors at Pedal Point Music and we anticipate adding a fifth in the Fall.

We are all looking forward to the first week of lessons that begins Monday, August 8th!