Getting Off on the Right Foot with Music Lessons!
Thursday, July 21, 2022 by William Suit | Uncategorized
A new year of music study is only a few days away as the summer months begin to wind down. Pedal Point Music is ready for you and all of the instructors are excited to pursue a great year of music goals! New students are enrolling and existing students are preparing to resume.
Here are some pointers to get your new year off to a great start:
Read and sign

the school policies

.

(Questions? Now is the time to ask!)

Review the

calendar.

It is your course of study and will be followed.

Note your instructor's pricing

.

Updated pricing is effective August 1st.

Plan to attend the picnic

August 14

at Pernoshal Park!

Pack a picnic lunch and bring your family. We will have fun!
If you know someone contemplating music lessons, please tell them about Pedal Point Music! For each family that is successfully enrolled by referral, the referring client receives a credit of $37.50 on his/her account! Just send them this link, https://www.pedalpointmusic.com/Enroll, so that they can complete registration. Remind them to use your name as the referrer. Thank you in advance!
There are now four instructors at Pedal Point Music and we anticipate adding a fifth in the Fall.

We are all looking forward to the first week of lessons that begins Monday, August 8th!
2022 - 2023 Calendar, Policies & Procedures releasing July 1st
Thursday, June 30, 2022 by William Suit | Uncategorized
The new school year is just a few weeks away. With its approach, Pedal Point Music is releasing the details of the updated calendars, policies and procedures for the instructors on July 1st. Watch your email for the announcement. In the meantime, take a few minutes to watch the video above that explains the updates.
NEW FEATURE!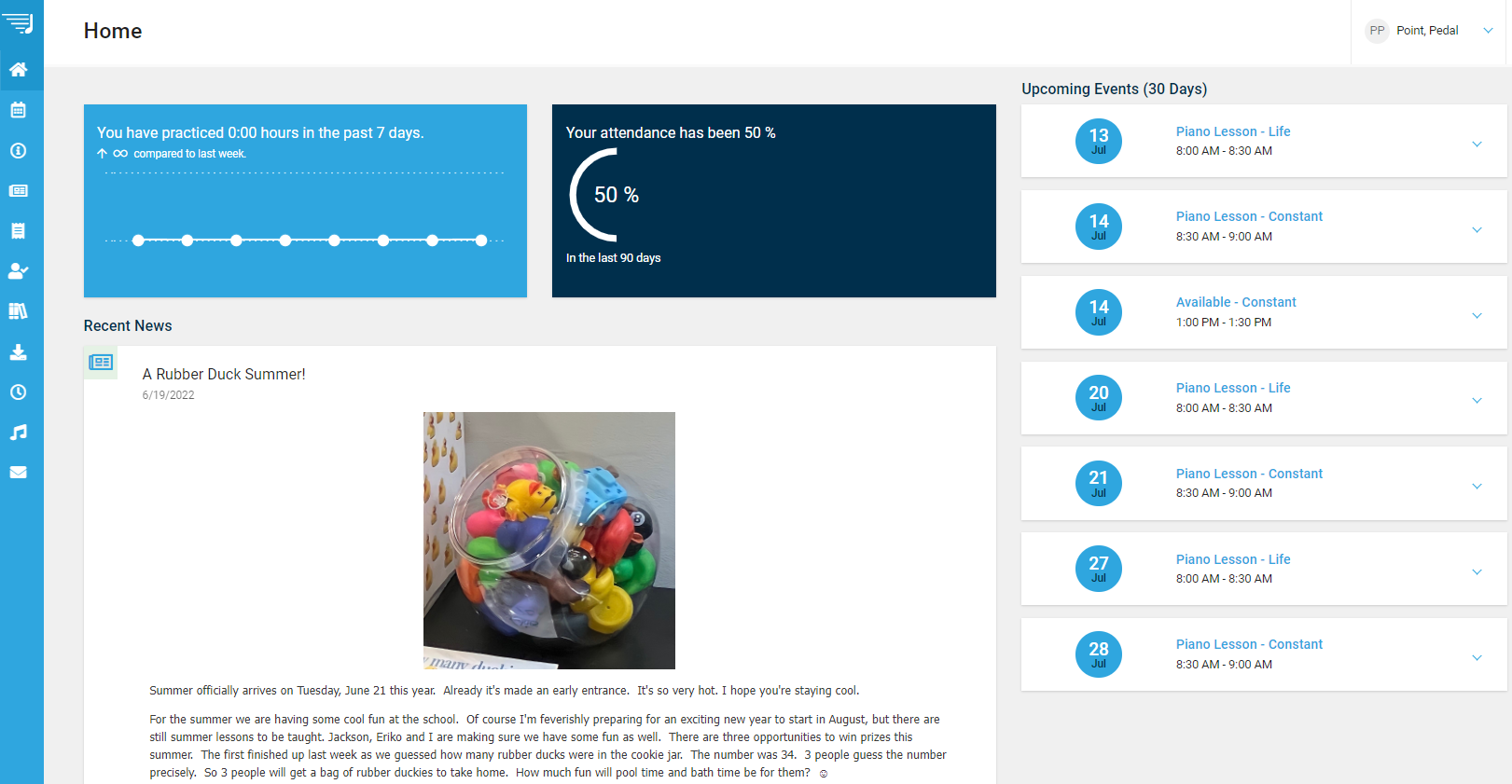 With the new year comes a new way of keeping track of your lessons through the parent/student portal. This easy tool has a wealth of resource. It will also serve to assist you with canceling and rescheduling lessons.
You can cancel and reschedule an upcoming lesson online without having to contact your instructor.
(Jackson and Will are currently using this feature.)
It's easy! Just follow these steps:
1. Log into your account at https://www.pedalpointmusic.com/Parent-Student-Login . You will see the home page. This is a quick view of upcoming lessons, lesson notes, account balances, etc.
2. Click on the lesson you wish to cancel.
3. Click on the word "cancel." A confirmation popup will appear. You can leave a note here if you wish.
4. Click "yes" to cancel your lesson.
5. If it is more than 24 hours before your lesson, you will be issued a makeup credit.
6. You may now click on the calendar tab and find an available timeslot for the makeup. Makeup lessons are not guaranteed and must be scheduled within 2 weeks of the cancellation, or they are forfeited. Remember that cancellations made less than 24 hours before the lesson are not eligible for a makeup lesson.
Pedal Point Music believes parents and students will find that using this feature will make the process of cancellation/rescheduling a bit easier and give them more time to deal with other things. This is just another way we are making it easier for your to enjoy music lessons with us at Pedal Point Music.
We look forward to a GREAT year!
Will Suit
A Rubber Duck Summer!
Sunday, June 19, 2022 by William Suit | Uncategorized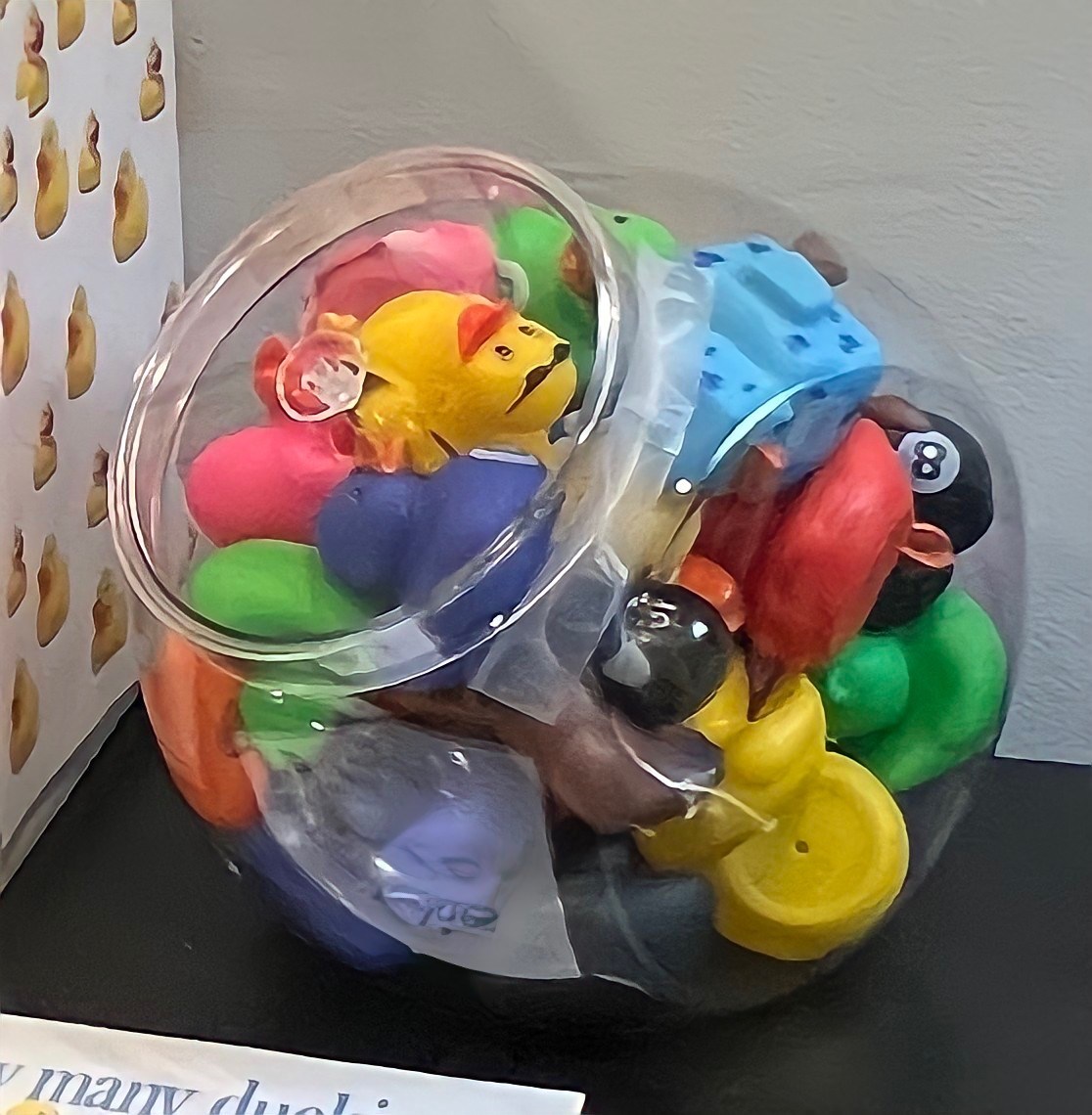 Summer officially arrives on Tuesday, June 21 this year. Already it's made an early entrance. It's so very hot. I hope you're staying cool.
For the summer we are having some cool fun at the school. Of course I'm feverishly preparing for an exciting new year to start in August, but there are still summer lessons to be taught. Jackson, Eriko and I are making sure we have some fun as well. There are three opportunities to win prizes this summer. The first finished up last week as we guessed how many rubber ducks were in the cookie jar. The number was 34. 3 people guess the number precisely. So 3 people will get a bag of rubber duckies to take home. How much fun will pool time and bath time be for them? ☺
On Monday, June 20th, summer students will once again have the opportunity to guess, but this time it be a cookie jar full of ??????? Hmmmmm You'll have to wait and see.
We're having a great summer at Pedal Point Music! It's a great time to start or polish up your music skills!