THE GREAT PUMPKIN CHALLENGE
Wednesday, September 22, 2021 by William Suit | Uncategorized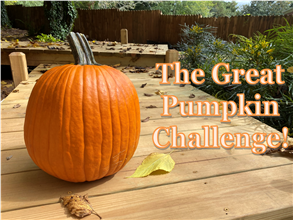 October is just around the corner. With the arrival of October comes the changing of the leaves and a slight chill to the air as Autumn takes hold. It also brings THE GREAT PUMPKIN CHALLENGE!
This year THE GREAT PUMPKIN CHALLENGE is open to everyone taking lessons at Pedal Point Music. Your instructor will help you set four goals that you intend to accomplish during your studies in October. It's up to each instructor to decide how to set the four goals for each student and pace completion of them.
It's a fun time to rev up your skills and prepare for events in and around Pedal Point Music. I've enjoyed watching my students give a bit more effort each year, somewhat motivated by the prizes and no doubt the festive atmosphere. There will be pumpkins throughout the building. One or two of them will be real! There will be school-wide drawings each week and a grand prize drawing at the end of the month for those completing their goals. The winner of that takes home a giant pumpkin!
So, get yourself psyched up for a month full of fun studies during the month of October!