Music Lights the Way Piano Festival
Tuesday, October 11, 2022 by William Suit | Uncategorized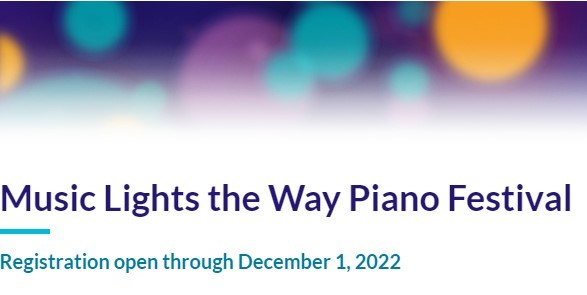 I'm very excited to announce a Piano Festival with the Royal Conservatory Music Certificate program! Registration is now open for the Music Lights the Way Piano Festival!
Students at Pedal Point Music who are studying music from the Celebration Series will want to read about this and get involved. Here is an overview, but you will want to go to the official site to sign up and find the rules. Talk to your instructor about participation and get their teacher number so that you are registered correctly.
If you need help, email will@pedalpointmusic.com.
About
Free to enter for piano students of all ages and levels
Two available divisions – Youth and Adult
Over $150,000 worth of prizing to be awarded including an acoustic grand piano from Yamaha!
Feedback for finalists from expert judges
Submit a video performance of your selection from the Celebration Series®, Sixth Edition Repertoire books (Etudes excluded)
Grand Finale live in Koerner Hall, March 21 – 22, 2023†
Friends and family can support you with online voting
Video submission open from October 1 - December 1, 2022
† Live performances at Koerner Hall will be for Intermediate and Advanced level submissions in the Youth Division only
For more information CLICK HERE