THE GREAT PUMPKIN CHALLENGE WAS FUN!
Monday, October 31, 2022 by William Suit | Uncategorized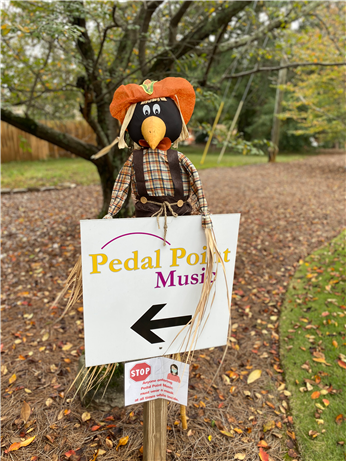 Today I'm putting away the pumpkins and posters for THE GREAT PUMPKIN CHALLENGE. It is with a little bit of sadness that I do so, but I know we have many other good things ahead. Plus, students across the board showed interest this year and met some wonderful goals. It was fun to see the winner of the great pumpkin rush over on Friday to gather the prize! I know her family is enjoying a colorful pumpkin display for the weekend and Halloween today.
One of the prizes that garnered the greatest attention and comments was the owl giveaway. A colorful box was on display for a couple of weeks in the lobby. Students were encouraged to deposit reports about composers and a drawing was held last Thursday for a winner of the owl. I've read through the reports and I'm still amazed at the details students bring regarding composers past and present.
The winner of the owl wrote about George R. Poulton. Here is what she wrote:
"I learned about George R. Poulton. He immigrated to New York when he was age seven. In 1861 he composed the melody for the song, "Aura Lee." In 1956 the tune was given new lyrics and released as the Elvis Presley song, "Love Me Tender." So, this melody is famous in Japan, too. Sometimes its melody is used for TV commercials. As you can see, I know about George R. Pouton." M. F.
Isn't that most interesting? Other composers included Beethoven, B. Kail (a local musician), Clara Schumann, Johannes Brahms, Paul McCartney, W. A. Mozart, Matthew Wilder, and the lyricist/composer duo, Howard Ashman/Alan Menken.
I'm extremely impressed and very proud of all of you who did your research. I hope you will continue to satisfy your curiosity about the people who write the music you love to play.
Now onward toward the Music Lights the Way Festival and our Holiday Online Concert! Details forthcoming!
Thank you for all of the great effort put into making this a great month of October. Have a happy week ahead!
Will