Maps
Monday, June 4, 2018 by William Suit | Uncategorized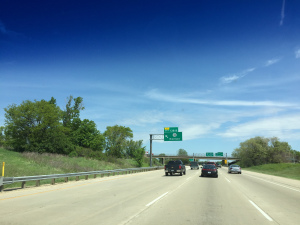 I took a road trip the other day from Atlanta to Minnesota to move a car to a summer location for a family member. It was a fun two day trip and brought back memories from the 1980s and 90s when I used to make this trip two or three times a year to visit relatives. Back then I used an actual paper map or an online map service to plot my way north. I never worried then about missing a turn or taking the wrong route. I had already planned the route that would best get me to Minnesota.

A couple of years ago I used my smartphone and the GPS data services to guide me every inch of the way. You know, I think I was more apprehensive, but I got there just the same and I recognized so many things that I had filed away in my memory from previous trips. It was a long trip and I had to make sure several key elements were in place before I started.
This past week my students made a stop along their musical journeys to share and review their plans for reaching their musical goals. Almost half of them participated in a recital that was well attended and enjoyed by all. It felt good to see how very far many of them have advanced in a year's time. Others were just starting out and were encouraged to see peers cheering them on their new musical ventures.
Still another group took it a step further and subjected themselves to an evaluation by a certified examiner with a recognized institution of higher learning. Those brave souls stepped bravely toward that quiet studio with the friendly lady and shared their musical knowledge in anticipation of a pleasing score and hopeful for a passing certificate.
None of this would have been carried out properly without a set of goals and the steps needed to reach them - a map. These goals were clearly defined and executed carefully toward success. While this is no doubt a learning process for each student and certainly for me as their teacher in an unfamiliar program, the results are certainly encouraging.
I must admit as a private music instructor, one is rarely given a how-to manual from which to administer services and teach. Actually, finding a graded, clearly defined curriculum for young vocal students is often rather frustrating and discouraging. Yet, I for one, believe that I have a responsibility to forthcoming to my students about their location on their chosen path of study and how they must navigate to reach their desired goals.
Setting the cruise control is not an option with voice students - well for any music student for that matter. It takes a lot of study and preparation outside of the studio to confidently sit with a student, look him/her in the eye and set the course of study. Egos have to be set aside by the teacher and the student while a fervent diligence toward clearly defined goals is engaged. Only then can you begin to see the progress you so eagerly pursue.
As I venture into summer, I must say I feel a renewed interest in clarifying expectations and demanding them of my students in the days and months ahead.
Happy Summer to you wherever your path takes you!
Will